WELCOME TO ST. FRANCIS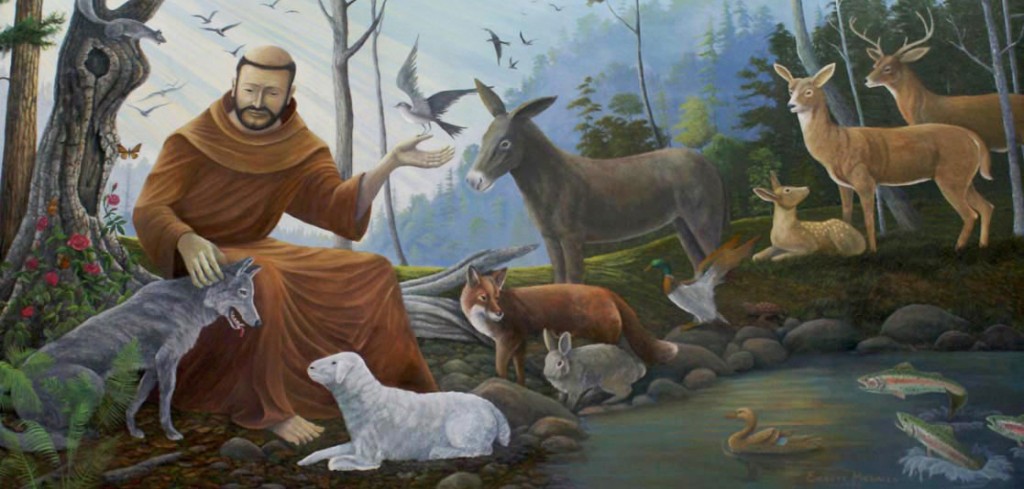 St. Francis of Assisi Parish is a Christ-centered community. We strive to be a warm, friendly and caring parish family, where the gifts and talents of all, young and old, are recognized and graciously used to nurture others, and to worship together in a vibrant and spirit-filled liturgy. We will go forth healed, affirmed and refreshed to meet the challenge of life in our spiritual growth.
From the Pastor
Our prayers and hearts go to all those people who are affected by the brutal terrorist attack in London this morning. Among all this bad things happening in the world, let us always have faith and hope in God. May God help those people who are all affected by this tragedy and keep their families in His care and be with them and fill them with His graces and love.
Fr.Edison

Dear Parishioners!
I would like to wish a good day to you all. First of all I would like to thank God for keeping us all safe. During the days of hurricane Irma I know so many people were praying for Divine intervention and we believe we are really blessed. During the weekend we had celebrated 4 masses and the parish hall was available for people to come and shelter. We had almost 45-50 people including children on Sunday.
St. Francis is always a place where everyone feels welcome and we will continue that tradition. We had power throughout the night and even though we had a leak in our Legion of Mary meeting room, we had enough space to move people.
Let us always have faith in God and continue to praise and thank Him for His immense grace and love for His people. The Parish offices are open and working regularly. We have a lot of catching up to do and also continue to remember our brothers and sisters who are really affected by the hurricane and lost everything. The weekend mass schedule will start normal as usual. In the Key West I heard almost 90% homes are destroyed. Please keep them in your prayers and be charitable. We have been really blessed by God so it is time to share our blessings as well.
I would encourage you to do a good deed in these days and really make it count the blessings from God and let us not take for granted God's graces and try to share it with our fellow brothers and sisters. We had few families here in our church grounds on Tuesday and coming back on Wednesday to clean up the branches and the leaves from trees. As I always say we have a wonderful parish and I am so proud of you. Thank you and God bless you all.
Fr. Edison

Storm Yard Debris Collection for Hillsborough County
Residents cleaning up their yards can start disposing of vegetative storm debris as yard waste collections begin in the unincorporated Hillsborough County Service Area, which also includes Tampa Palms, Hunter's Green, and New Tampa.
Due to the extent of storm debris created from Hurricane Irma, contracted yard debris collection will start on Monday, Sept. 18. Residents should have yard waste placed in piles along the right of way for collection by Monday, Sept. 18. Do not block access to storm water drains, utility boxes, or roadways.
As storm debris is being collected, the trucks will be working systematically throughout neighborhoods. The trucks may have to make several passes through the neighborhoods over the next several weeks due to the extent of storm damage, and to ensure the removal of all storm debris put out by residents.
County yard waste facilities are operating under extended hours, Monday through Saturday from 7:30 a.m. to 6:30 p.m. Residents must show a valid Florida driver's license to receive free yard waste disposal.
Yard waste facilities open are:
• • Falkenburg Road – 346 N. Falkenburg Road, Tampa 33619
• • Northwest County – 8001 W. Linebaugh Ave, Tampa 33625
• • South County – 13000 U.S. Highway 41, Gibsonton 33534
• • Hillsborough Heights – 6209 County Road 579, Seffner 33584
Residential garbage, recycling, and yard waste collection services resumed on Wednesday, Sept. 13.

Prayer to Avert Storms
Father, all the elements of nature obey Your command. Calm the storms that threaten us and turn our fear of Your power into praise of Your goodness. Give us the fine weather we pray for so that we may rejoice in Your gifts of kindness and use them always for Your glory and our good. We ask this through our Lord Jesus Christ, Your Son, who lives and reigns with the Holy Spirit, one God forever and ever, Amen.

PRAYER TO CHRIST, KING OF THE UNIVERSE
O Christ Jesus, I acknowledge You King of the Universe. All that has been created has been made for You. Exercise upon me all Your rights. I renew my baptismal promises renouncing Satan and all his works and pomps. I promise to lead a good Christian life and to do all in my power to procure the triumph of the rights of God and Your Church. Divine Heart of Jesus, I offer You my poor actions in order to obtain that all hearts may acknowledge Your sacred royalty and that thus the reign of Your peace may be established throughout the universe